VisionTek Radeon RX500 2GB GDDR5
$75.00
About This Item
The Radeon™ RX 550 delivers a performance card that is optimized for eSports and AAA gaming, enabling seamless video and photo editing and is compatible with the latest display technologies.
Graphics Engine: Radeon RX550
Video Memory: 2GB GDDR5
Bus Standard: PCI Express x16
Outputs: 1 x DisplayPort, 1 x HDMI, 1 x DL- DVI
Number of Monitors Supported: Three (3M)
DirectX® Support: 12
1 in stock
Information
Address: 4410 NE Valley View Lane, Vancouver, WA 98663 Phone: 360.334.0838 Email: helpdesk@datagotjunk.com Monday - Friday: 9am - 5pm Saturday: 10am - 4pm
Get In Touch
Description
Built on the incredible Polaris architecture.
Equip yourself with the latest Radeon RX 550 graphics card and get the gaming experience and performance you deserve. Prepare yourself for the future of gaming.
The Radeon™ RX 550  uses 4th Generation Graphics Core Next (GCN) architecture, featuring Asynchronous Shaders and an enhanced geometry engine, bringing smooth and immersive gameplay.
You demanded it – we made it reality.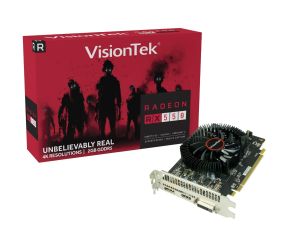 SPECIFICATIONS
Graphics Engine: Radeon RX550
Base Clock: 1100 MHz Base
                        1183 MHz Boost
                        1203 MHz Turbo
Video Memory: 2GB GDDR5
Memory Interface: 128-bit
DirectX® Support: 12
SUPPORTED OUTPUTS
1x Display Port 1.4 (DisplayPort 1.2 Certified, DisplayPort 1.3/1.4 Ready)
1x HDMI 2.0b
1x Dual Link DVI
SYSTEM REQUIREMENTS
• PCI Express® based PC is required with one X16 lane graphics slot available on the motherboard.
• 400W (or greater) power supply recommended**.
• Minimum 4GB of system memory 8GB (or more) system memory recommended for AMD CrossFire™ technology.
• Installation software requires CD-ROM drive, keyboard, mouse, and display.
• DVD playback requires DVD drive and a DVD.
• A display with digital input (HDMI™, DisplayPort or DVI) is required.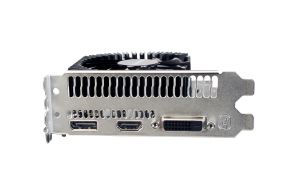 • Blu-ray™ playback requires Blu-ray drive and a Blu-ray disc.
• Supported operating systems include Linux®, Windows® 10, and Windows® 7.
• 64-bit operating system required.
Drivers for this card may be found here: AMD.com
Footnotes
*The operation of AMD CrossFire™ technology in dual mode requires a second similar AMD Radeon™ series graphics card and an AMD CrossFire™ Ready motherboard
1AMD FreeSync™ technology is designed to eliminate stuttering and/or tearing in games and videos by locking a display's refresh rate to the framerate of the graphics card. Check with your component or system manufacturer for specific capabilities. AMD FreeSync™ technology compatible monitor, AMD Radeon™ Graphics and/or AMD A-Series APU compliant with DisplayPort™ Adaptive-Sync required. AMD Catalyst™ 15.2 Beta (or newer) required. Adaptive refresh rates vary by display; check with your monitor manufacturer for specific capabilities. A list of supported hardware and compatible monitors is available at www.amd.com/freesync. GRT-2
2AMD's product warranty does not cover damages caused by overclocking, even when overclocking is enabled via AMD hardware 3HEVC acceleration is subject to inclusion/installation of compatible HEVC players
** Certified power supplies are recommended
Additional information
| | |
| --- | --- |
| Description | |
| Brand | |
| GPU Family | |
| GPU Series | |
| GPU RAM | |