Corsair Gaming K55 RGB Keyboard
$35.00
Transform your gaming experience with this Corsair RGB gaming keyboard. Its customizable backlighting mode enables quicker keystrokes in darker rooms, and six programmable macro keys let you perform key sequences with one stroke. This Corsair RGB gaming keyboard includes multimedia controls and a Windows key lock to minimize interruptions during game play.
1 in stock
Compare
Information
Address: 4410 NE Valley View Lane, Vancouver, WA 98663 Phone: 360.334.0838 Email: helpdesk@datagotjunk.com Monday - Friday: 9am - 5pm Saturday: 10am - 4pm
Get In Touch
Description
Description
Three-zone dynamic RGB backlighting
10+ vivid RGB lighting modes allow you to choose between multicolor static backlighting or immersive lighting effects.
Quiet and responsive keys
Offer minimum noise and satisfying feel without sacrificing performance.
Multi-key anti-ghosting
Helps your commands and simultaneous keystrokes register the way you intended.
Dedicated volume and multimedia controls
Adjust your audio without interrupting your game with direct access to volume and media playback.
Integrated numeric keypad
Allows simple data entry when you're not gaming for multifunction use.
USB interface
Enables a simple wired connection to your computer.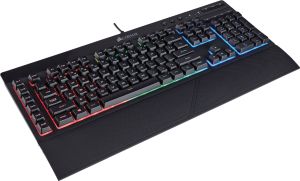 Detachable soft rubber wrist rest
Provides additional comfort to support marathon gaming sessions.
PC compatible
For use with your existing computer.
Manuals
Manuals